Posted on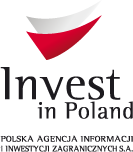 Poland has stable economy and well-grounded macroeconomic position.
Unique conditions for running a business are supported by repeatedly confirmed resilience to economic crises.
Polish investment attractiveness derives from a number of factors:
Ambitious and hard-working people. The main advantage of Poland are the inhabitants. Especially their ambition, motivation and professional ethics as well as unique initiative. Poland is the biggest country in Central-Eastern Europe 6th biggest in the EU.

Diversified economy. A wide range of manufacturing, service and agricultural companies. It is not a problem to find partners in sectors like automotive, aviation, food processing electronics and finance.

Macroeconomic stability. Healthy public finances and long-term predictability. Poland as the only country in the EU avoided recession and public finances are in much better condition than the EU average.

Transformation. New business opportunities derive from unique in European terms infrastructural modernisation – of the road and rail transportation, as well as the energy infrastructure.

Vast internal market and free access to the European market. Almost 39 million of consumers in Poland and free access to the EU market which covers 500 million consumers as well as easy access to Eastern European countries.

Price competitiveness. Our advantage is high quality at competitive price.
Polish investment attractiveness is confirmed by the following facts:
USD 221 billion of FDI stock at the end of 2013 (NBP),

3 379 greenfield projects and 822 thousand of new jobs created in the period 2003-2014 (FDI Intelligence).

Economic data:
GDP per capita: 68% of the EU average,

GDP value PLN: 1.66 trillion in 2013 (current prices, GUS),

Economic growth: 1.6% GDP growth in 2013

Inflation rate in 2013: 0.9%,

Exports PLN: 647.8 billion in 2013,

Public debt/GDP: 55.7% (at the end of 2013, GUS).

Other important information:
| | |
| --- | --- |
| Area | 312,679 km2 |
| Population | 38.5 mn (Central Statistical Office as of 31.12.2012) |
| Capital | Warsaw, population: 1.716 mn |
| Administrative division | 16 Voivodships, 314 Poviats, 2479 Municipalities |
| Legislative Branch | Parliament: Sejm (460 representatives), Senat (100 representatives) |
| Executive Branch | President (5 years term), Council of Ministers (4 years term) |
| Judicial Branch | Supreme Court, common courts, administrative courts, military courts |
| Time zone | GMT +1 |
| Currency | Złoty (PLN) = 100 groszy (gr.) |
| Life expectancy | females 81.0, males 72.7 |

Actual reports on the macroeconomic situation of Poland: